As people search for information, the Internet has become an important aspect of our lives, and online shopping is no longer a novelty. It opens up new business prospects, and businesses are becoming more active in their marketing strategies and focusing more on websites, which have become the best method to engage with potential clients. Customers' personal information, such as demographics and payment information, is collected by websites.
Businesses' security and safety worries have reached a critical point. According to a survey, one out of every three firms has cybersecurity concerns and confronts safety and security challenges, with enterprises losing an average of $1.50 million due to cyberattacks. E-commerce websites, in general, hold their users' financial information, which must be protected at all costs. All of these common SSL attacks may be avoided with an SSL certificate, lowering the danger of attackers.
We'll talk about SSL certificates and why they're important for website owners. Let's start from the beginning!
What is an SSL certificate?
When you first visit a website, you may notice a padlock symbol next to the URL address, indicating that the website has an SSL certificate and is safe to view. Yes, the SSL certificate is to blame. SSL technology encrypts the connection between the website user and the website hosting point, safeguarding the data exchanged between them, and is used to secure online interactions. The communication between the web server and the visitor's browser is encrypted with this certificate.
SSL certificates enable website operators to keep consumer data securely and privately. It uses the most up-to-date encryption techniques to prevent unauthorised third-party access to data. To authenticate, a trustworthy and reputable Certificate Authority (CA) issues this digital certificate.
What happens if I don't have access to an SSL certificate?
Websites that do not use SSL certificate must suffer significant losses. When a person attempts to access a non-SSL encrypted website, search engines like Google display a "Not Secure" message, and they aren't even ranked.
Furthermore, non-SSL websites put their customers' data in danger. All contact with them is done in plain text, allowing simple access to client information such as passwords, addresses, usernames, bank account numbers, credit/debit card numbers, and so on.
Furthermore, as previously stated, non-SSL websites are not permitted to collect online payments, thus restricting their freedom.
Why it is necessary to install an SSL certificate?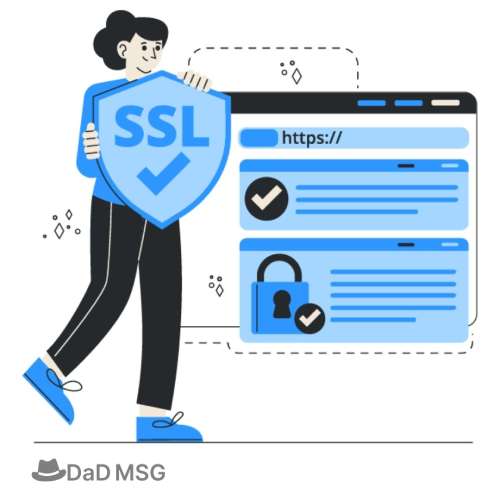 SSL certificates contain several security measures that help safeguard users' personal information from cyber-attacks.
It guarantees a safe and secure payment environment, which is especially important for E-commerce sites where customers are willing to share their financial information. By providing security, SSL certificates help to establish a website's credibility.
Payments in a Safe Environment
Online users nowadays recognise the need of submitting sensitive information such as financial information or personal information on any online site. By implementing the appropriate active SSL certificate on their website, a business owner may ensure that their website visitors' data is protected from cyber-attacks.
Every website that accepts online payments is expected to have some level of payment security. These websites must use an SSL certificate with a minimum encryption level of 128 bits. Various websites, such as bank portals, UPI, and major money transfer portals, are equipped with a new SSL certificate that enables 256-bit encryption levels.
User Experience with Confidentiality
The user's personal information, such as login, personal data, contact details, demographics, and other sensitive information, is collected by numerous company websites. The possibility of this information being shared with a third party is always present. SSL certificates protect consumers from such occurrences, and the Certificate Authority does not certify data-breach-related websites.
Users are cautioned with several pop-ups and warnings when they visit an unsafe website, but they are nonetheless aware of the need for online security. SSL certificates assist companies in providing a more secure and private user experience on their websites.
Communication that is safe and secure
Installing an SSL certificate has several benefits, one of which is that it encrypts the interaction with the visitor's browser.
It provides safe and private communication, and it is inaccessible to any third parties. SSL certificates offer unbreakable encryption for safe website connections.
Boost Search Engine Positioning
Search engines are committed to ensuring that all users have access to a safe and secure internet. Google revealed in 2014 that HTTPS will be used as a lightweight parameter for keyword results.
The padlock symbol functions as a trust indicator, attracting more visitors to the website. As a result of the increased web traffic, search engine rankings have improved.
Information Protection
Because it requires an HTTPS web address, which encrypts HTTP with improved security, SSL certificates are mainly focused on companies. An SSL certificate encrypts the online traffic of HTTPS websites.
A website that does not have an SSL certificate is labelled as "not secure." This might signal that the site is untrustworthy or unsuitable for online transactions.
How does an SSL certificate work?
SSL uses a procedure known as the SSL handshake to protect sensitive user data. This procedure may appear to take a long time, yet it just takes milliseconds.
So, without further ado, here's how the process works:
A web browser first tries to connect to an SSL-secured website's web server.
The browser asks the server to identify itself.
In response, the website server delivers the browser a copy of a digitally signed SSL certificate.
The browser next verifies that the certified copy is genuine and, if so, informs the webserver.
To begin the encryption session, the webserver signs a digital acknowledgement and sends it to the browser.
Finally, the data sent back and forth between the web server and the browser is encrypted.
Conclusion
You've probably figured out how important security procedures are for your website. However, merely installing these protocols will not solve the problem. You and your team must practise proper cyber hygiene by establishing procedures for full admin access and passwords.
Your software should be current, and everyone who works on computers should be prepared to deal with threats like phishing, ransomware, and man-in-the-middle assaults, among others.