What causes wrinkles?
Ageing of skin and loss of skin volume causes wrinkles.
Facial expressions form fine lines which further leads to wrinkles.
Excessive exposure to sunlight (u.v.rays) causes wrinkles due to the destruction of elastin fibres. The wrinkles will appear early on that body parts which are frequently exposed to sunlight excessively.
Smoking causes fine lines around the mouth and eyes area.
Dehydration of your skin contributes to more fine lines.
Lack of sleep and stress form fine lines on your face.
Wrong sleeping posture for a long time causes wrinkles.
Prevention of wrinkle formation
Hydration
Dry skin is more prone to wrinkles. Drink water according to your body requirements. Men should drink at least 3 litres a day whereas women should drink 2 litres a day.
Use Sunscreen
Avoid staying in sunlight for a long period. Use water-resistant sunscreen and it should protect skin from UVA and UVB rays. The SPF should be between 15 to 50.
Correct Sleeping Postures
Avoid sleeping on your stomach. Sleep on your back.
No smoking
Say no to smoking and drugs to get wrinkle-free skin.
Fasting
Fasting ceases the ageing process and promotes the growth of collagen.
Stay stress-free & take a good sleep
A healthy lifestyle will help you to prevent wrinkles. Wake up early, sleep at least for seven to eight hours. Stress increases wrinkle formation in the body.
Diet
Add more vitamin A, vitamin C and proteins to your diet.
Use moisturizer & retinol cream
These both help your skin to get hydrated and thus prevent wrinkles formation.
Exercises

Face Exercise
Take a mouth full of water and rotate it in your mouth from both sides. You have to do it for two to three minutes.
Asanas
Asanas like Sirshasana, Sarvangasana, Hastapadasana, Halasana, Vajrasana and Dhanur Vakrasana contribute to reducing wrinkles.
How to Remove Wrinkles from face
Exfoliation
It is the process of removing the dead skin cells. Regular exfoliation helps in the removal of wrinkles.
Dermabrasion
It is an exfoliating technique that treats fine lines and wrinkles. It is a permanent treatment.
Fillers
Facial fillers are a special type of injection that temporarily soften wrinkles. It is a costly process that should be done regularly.
Laser Therapy
There is the reduction of fine lines and wrinkles with the help of concentrated beam lights.
Botox
Botox is injected into the affected area. It is mainly used to reduce face and forehead wrinkles. The effects last for 6 months.
Home Remedies
Olive oil is one of the gentlest home remedies to treat these wrinkles. It is rich in antioxidants and vitamins E. With the tip of your fingers massage over your face gently. Leave it for at least twenty minutes and then wash with cold water.
Avocado oil is a source of vitamin A and E. It is a natural antioxidant that has anti-inflammatory effects. Massage it over your face with the tip of your fingers. You can wisely use your thumb too. Leave it for twenty minutes and then wash with cold water. For better results use it twice a day.
Coconut oil has antioxidants that delay the ageing process. You can use it twice a day. Gently massage coconut oil evenly in your face with the help of your fingertips and thumb. Wash it with cold water after keeping it for twenty minutes.
Face pack
Mix 4 spoons of milk powder, 2 spoons of orange juice and half a teaspoon of honey. Apply it on your face gently. Leave it for 15-20 minutes then wash with cold after and apply moisturizer.
Paste of banana with honey helps to cure wrinkles.
Cucumber and apple paste solely reduces wrinkles.
Mix 2 spoons of fuller earth in 3 spoons of rose water. Apply it for 10 to 15 minutes and then wash with cold water.
Aloevera gel mixed with honey reduces wrinkles on your face.
Herb Remedies to Reduce Wrinkle in 2022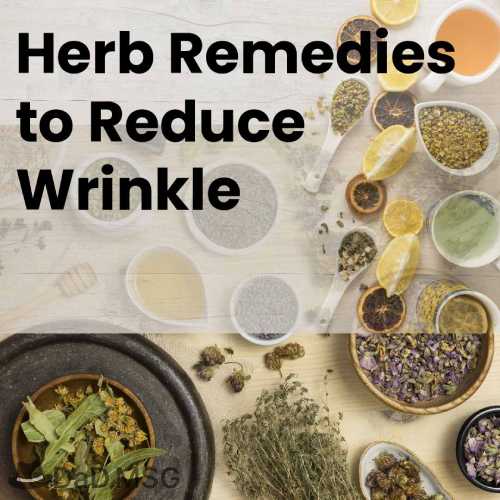 Basil
Basil seeds are good for skin problems and anti-inflammatory. It is a good source of vitamins A, C and K. Basil seeds mixture with gram flour and honey treat wrinkles is a perfect face pack. You can consume 13 grams of it in a day.
Ashwagandha
It prevents the damaging of cells by stress. It makes the skin firmer. You can consume per day.
Amla
It is a source of vitamin C. There are various ways to consume it. You can consume amla juice or directly eat it in the form of pickles or murabba.
Turmeric
It is a great exfoliator, reduces inflammation and controls the process of ageing. Add two teaspoons of gram flour in half a teaspoon of turmeric and lemon juice. Apply it for ten to fifteen minutes and then wash with cold water. Apply moisturizer according to your skin.