Anyone deciding between Apple's newest wireless earbuds and its most expensive model can benefit from a comparison of the AirPods 3 and AirPods Pro. The new AirPods 3 are a considerable improvement over the very popular AirPods 2. It integrates new features (such as MagSafe charging and skin-detect sensors) as well as series stalwarts (such as "Hey Siri" voice activation and Spatial Audio) into a familiar form. It also has better battery life, something fans have been clamouring for since the second-gen edition hit shop shelves.
All of these improvements have propelled the AirPods 3 into territory formerly held by the AirPods Pro, one of just a few items to receive a flawless five-star rating from us.
So, let's have a detailed look at the difference between the Airpods 3 and Airpods Pro.
| | AirPods 3 | AirPods Pro |
| --- | --- | --- |
| Weight | 0.15 ounce | 0.19 ounce |
| Audio features | Adaptive EQ, Multidimensional audio | Transparency mode, Multidimensional audio, adaptive EQ, active noise cancellation |
| Wireless charging/MagSafe | Yes | No |
| Durability | Sweat- and water-resistant | Sweat- and water-resistant |
| Customisable fit | No | Yes |
| Chip | Apple H1 | Apple H1 |
| Battery life (earbuds) | 6 hours playback time | 4.5 hours of playback time (with ANC enabled) |
| Battery life (case) | Playback time of up to 30 hours | Playback time of more than 24 hours |
| Microphones | Inward-facing microphone; dual beamforming microphones | Inward-facing microphone; dual beamforming microphones |
| Sensors | Sensor that detects skin, accelerometer that detects motion, accelerometer that detects voice, and force sensor. | Dual optical sensors, a motion-detecting accelerometer, a speech-detecting accelerometer, and a force sensor. |
| Price (INR) | ₹18,500 | ₹24,900 |
| | | |
Which one sounds the most appealing?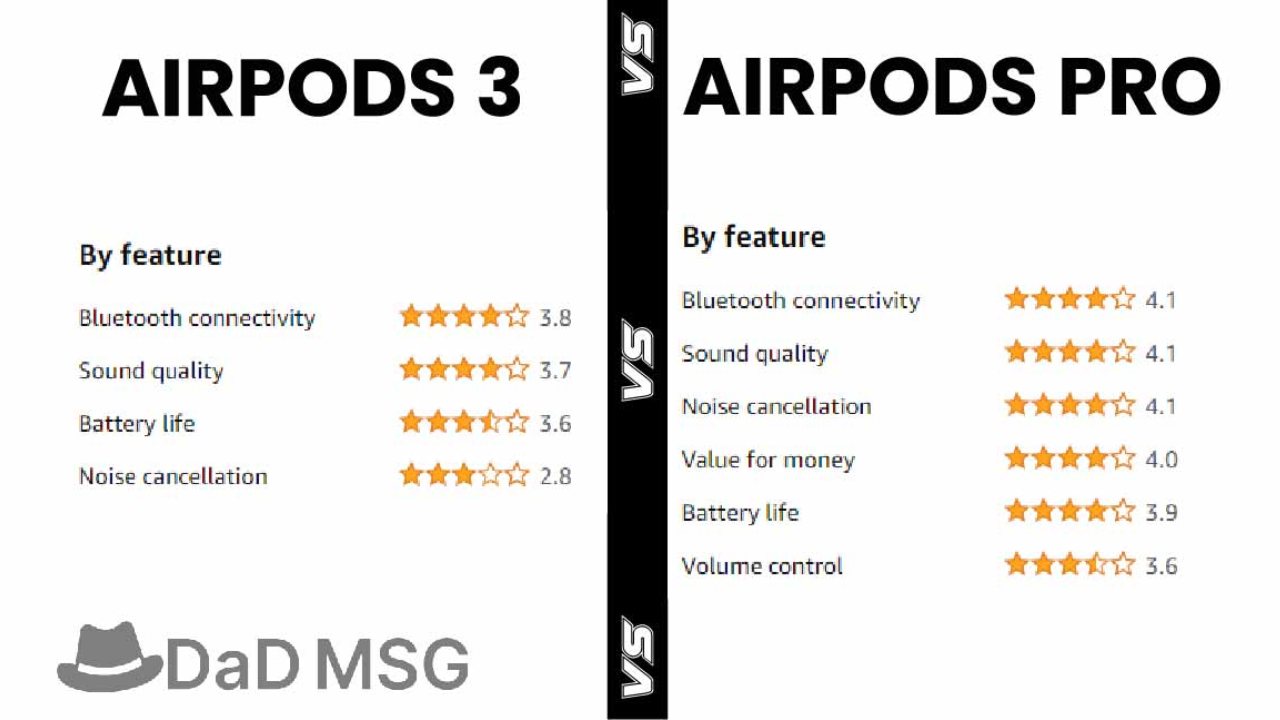 I can't think of a single subject that we bring up more frequently at DaD MSG than the idea that isolation is crucial for good sound. A faulty seal implies poor bass response and a significant risk of aural masking, which can lead to users turning up the volume to dangerous levels.
The AirPods Pro produces excellent accurate audio across the frequency spectrum, but with somewhat under-emphasized highs as compared to our ideal curve. In comparison, the Apple AirPods (3rd generation) bass range output appears to be lacking, but it might be a lot worse. Some bass leakage is unavoidable with an open ear, but the fact that it's mostly limited to sounds in the sub-bass range is impressive. The main conclusion is that there aren't many sounds in music below 50Hz, so you're unlikely to notice the lack of intensity very often, if at all.
Both of these measures, however, were acquired under perfect conditions. While the AirPods Pro's isolation and ANC performance will considerably lessen the effects of, say, leaving the home, the AirPods can't say the same (3rd generation). As fantastic as Apple's new earphones may sound, as soon as you're strolling down the sidewalk and a vehicle horn sounds, it's all gone. When your earbuds don't seal the ear, the only way to aid with auditory masking is to pump up the volume, which you shouldn't do—noise-induced hearing loss is more common than you may believe, and no song is worth it.
Should you choose the third-generation Apple AirPods or the Apple AirPods Pro?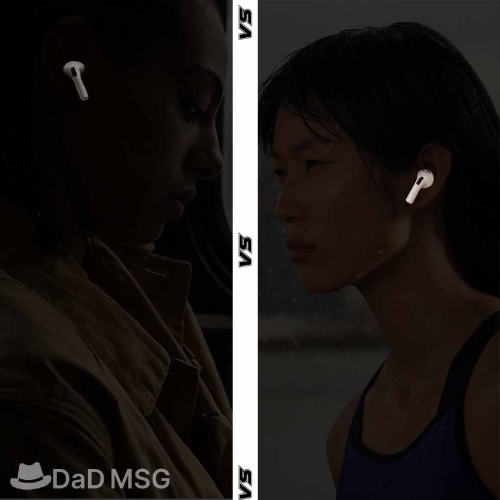 Choosing between the Apple AirPods (3rd generation) and the Apple AirPods Pro shouldn't be difficult in most cases. Do you prefer a snug fit and crystal-clear audio? The AirPods Pro are available for purchase. Sure, Apple's ANC earphones are costlier, but that extra cost saves you a slew of troubles in the long run.
The decision of which to buy for fitness is a little more complicated. Both true wireless earbuds are sweat-resistant to IPX4, and the AirPods Pro's noise cancelling makes it the obvious pick if you don't want to listen to your local gym's Top 40 soundtrack (particularly if it's punctuated by adjacent grunters). If you're a runner, though, the AirPods (3rd generation unsealed)'s ear may appeal—it all depends on how secure a fit you can obtain. Because the rigid plastic construction leaves little space for modification if it doesn't fit right away, getting a chance to try it on before you buy is worthwhile.