A well-known Meta app "Whatsapp" is what everybody here uses and knows what it does. Whatsapp provides you with the easiest way to exchange messages on your internet data plan at no additional cost. It's not just limited to messaging but 2 billion users of it can also facetime their loved ones or hold a business meeting on it. Different groups can be formed with the same people with no prescribed limits of groups. You can share your location and transfer money through WhatsApp. In short, WhatsApp is an all-in-one app.
Like every other app, WhatsApp goes through several feature changes. From time to time changes has to be made as per the need. The newest change or release in WhatsApp Messenger is 2.22.7.2 beta. This feature is related to the Forwarding messages. Currently, this change is only available to beta users and is in underdeveloped status. Everyone knows that WhatsApp keeps a track of how many times a message is forwarded via a counter, and you might have seen a short note that shows up on your screen while forwarding a message that it has been forwarded many times before. As messages sent via WhatsApp are end-to-end encrypted which means that WhatsApp and any other meta app cannot read those messages and provides full privacy to its users. This end-to-end encryption also works on that counter, which WhatsApp cannot read.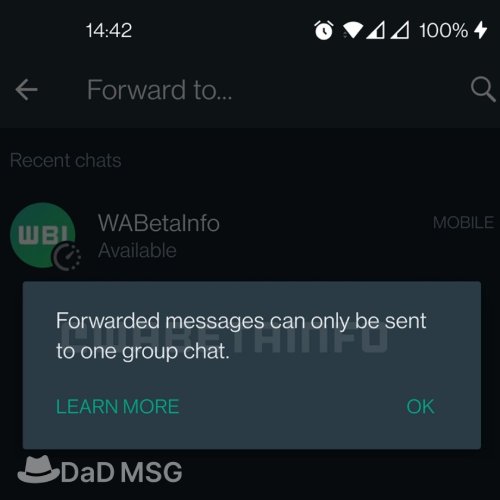 With the new WhatsApp beta for Android 2.22.7.2 update release, WhatsApp is limiting the forwarding message feature to only be sent to one group chat. In a simple term, if a message is marked as forwarded then you cannot further forward it to more than one group chat at once. For forwarding the same message to different chat groups you need to select that message again and again and then forward it. Currently, this new feature is in the testing phase and soon this will be available to all WhatsApp users, as it is only available to Whatsapp beta users.
Whatsapp beta refers to those few users on whose smartphones all the changes are first introduced to check how that works.
The current changes that WhatsApp has made might be due to passing on misinformation through this meta app. It may be the reason that we have expected as the true reason is still unknown.